Discussion Starter
·
#1
·
I purchased a brand new Cube 1.8 with 50 miles on it on Jan 19th. Within the 3 weeks of ownership, I now have 2030 miles on it!! I have some plans for this little guy in the future as far as mods and such go.
As of right now, I have installed my trusty Scan Gauge II which I have set up to give me readings on TPS, MPG, Intake Air Temp and H2O Temp.
Just last week while I was at work, I got my windows tinted. The stock rear tint is 15%, so I had him add more 15% on top of them, then 35% on the front doors. Tomorrow he's coming back to put 50% all the way down the windshield and a 15% strip across the top. The reason for the tint on the windshield is to protect the dash over the years from UV. It's super light tint so it won't hinder night vision.
Just a few minutes ago, I ordered a set of black Maxxim Screech 15x7 wheels for the little toaster. I ordered +38's for the front and +15's for the rear. I'll be using the stock Toyo 195/60 tires on them.
In the somewhat near future, I plan on dropping it at least an inch at all four corners, maybe 1.5". The final call will be made after I have the new wheels on. I'll also be adding an anti-sway bar in the rear. And if the stock shocks don't take well to the new lower stance, I'll upgrade the shocks, but I think a 1 - 1.5" drop will be fine on the stock shocks. I want to keep the stock ride quality as much as possible.
Somewhere around or in between this time, I'll be doing some minor work on the stock stereo system as well, upgrading the base model headunit with the top of the line headunit, installing the stock sub/amp/enclosure combo, getting another pair of cheap base model speakers for the rear doors, then installing dampening material on all four doors, the hatch door and roof.
Almost forgot!... I also want to get the stock front and rear ground effects from the SL model and the side skirts and rear wing from the Krom, a drop-in K&N air filter and a BMW style duel tip muffler.
Anyway, here's a few pics...
The day I brought it home...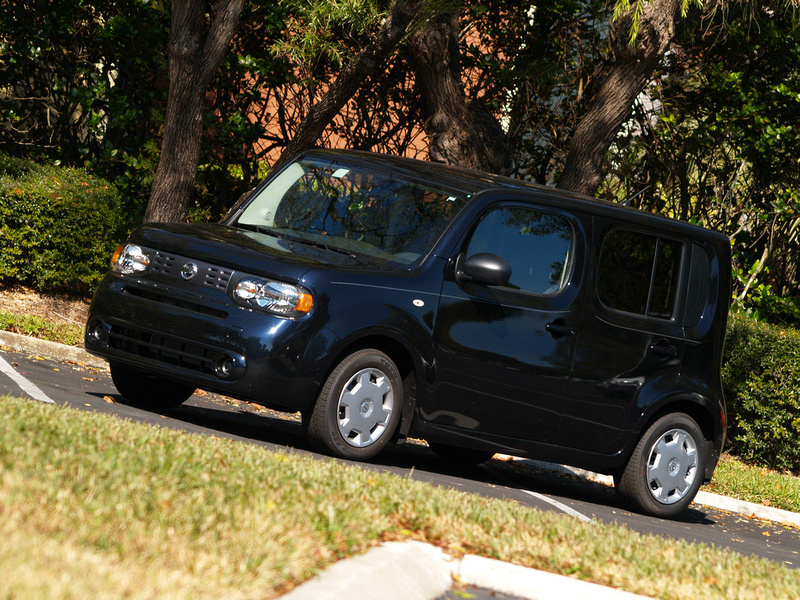 A comparison of the stock tint and the new tint...
And a "googled" pic of the Maxxim Screech wheels I just ordered...